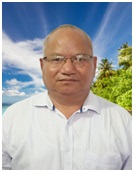 Principal's Desk
Dear Students, Guardians and Friends,

It gives me immense pleasure to speak a few words about Mushalpur College, Mushalpur as the President of its Governing Body. Mushalpur College, Mushalpur was established as back as in 1993, having celebrated its 30th Foundation Day this year very recently on 22.06.2022. It is the only centre of higher education in the heart of Mushalpur, the District Head Quarters of Baksa district. Considering from the point of its age, the college should have been brought to the status better than it is now enjoying in all spheres like academic, official etc.; especially in the matter of provincialisation, it should have not been left lagging behind. In this regard many lapses crept in and now, let us take all these as the forgone chapter in the history of the College.

At the threshold of the admission for the academic session 2022-2023, I welcome all the students seeking admission to this College and hope their pursuit for higher education with specific objectives of life and their 'go after knowledge' will be fulfilled with proper guidance, support and help of the limited but well-experienced and toiling faculties of this institution.

Although far away, it is not impossible that Mushalpur College, Mushalpur may someday be transformed into a centre of excellence and let us remain looking forward to this.

Shri Dipak Kumar Basumatary
President
GB, Mushalpur College, Mushalpur.

.